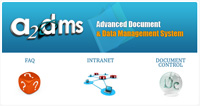 Introduction



A2DMS-Document Management
is an electronic Document Management solution providing high level functionalities at every phase and every level of a project.
Several modules allow each role to perform task regarding documentation such as :



Recording and distribution of project documents – Document Control role


Recording and distribution of project correspondence – Secretary role


Electronic review of documents – Reviewer role


Approval of documents – Approver role


Reporting – Manager role


Querying and viewing registers and documents


The
Dashboard
is the central point of A2DMS-Document Management.
All the the documentation can be accessed from this screen but it also shows an overview of all the actions the user has to perform.

Documents are filed in Registers (Correspondence Register, Technical Document Register, Minutes of Meeting Register, Technical Queries Register etc.)
The Registers display a datasheet view rather than forms.
This allows a global vision of a specific part of the documentation and makes comparisons easier. All operations on registers can be performed from the same page (Browse, filter, search, view document, print reports, comments etc.).


Internal transmissions are performed via A2DMS. If preferred, traditional paper Transmittal Notes can be printed.
A2DMS manages workflows of review leaded by a responsible.
Reviewers can be nominated by the responsible or via pre-defined matrix.
A2DMS is also integrated with Adobe Acrobat ® annotation features.
A2DMS manages different types of incoming and outgoing transmittals:

Traditional paper Transmittal Notes

Documents attached in Emails

Documents and electronic transmittal placed on a shared resource (for instance a ftp resource).

A2DMS accepts many types of data exchange (in and out) formats  (XML, CSV, XLS, MDB …)
A2DMS  proposes a large choice of predefined reports (applying filters and grouping).
Engineering reports
Vendor reports

Documents Register
Document Behind Schedule
1 Week Look Ahead
1 Month Look Ahead
Documents Issued
Overdue Documents
Adressees
Transmittal List
Progress Discipline

Vendor Documents Register
History
To Client (As received)
To Client (Commented)

1 Week Look Ahead
1 Month Look Ahead
Behind Schedule
Received From Vendor

Returned to Vendor
In Review
Overdue

A2DMS allows to create "intelligent" Minutes of Meeting and eases to follow-up / expediting the actions to performed.
Minutes of meeting can be created in a disconnected mode (on a laptop for instance) and then imported in the A2DMS central database.


A2DMS can automatically fill the header of outgoing correspondence. Templates for correspondence (MS-Word or MS-Excel) are fully customizable.
Technical Queries



The Project Setup is managed from a single screen.
Reference tables can be copied from a project to another.


A2DMS Off Line
Users can keep on accessing A2DMS when disconnected from the network.
A2DMS database can be downloaded on the workstation as well as a set of selected documents
Functionalities available Off line are :

Browse and query document database

Reports -View downloaded documents

Comment documents

Elaborate Minutes Of Meeting

Design customized queries and reports


Introduction

Dashboard

Technical Documents Register

Minutes of Meeting

Correspondence

2003/06

Versions 1 to 3

Specific developments of Electronic Document Management Systems for
Oil & Gas EPC contractors.
These versions didn't bear the name A2DMS.
2007

Versions 4.0 to 4.3

Data Management
Intelligent Minutes Of Meeting
eMail Register
Communication with ftp servers
MS-Excel ® Import/Export
2008

Version 5 (Current)

Revamping of the 'interface (Vista style)
TODO List
Interface with Adobe Acrobat ® and Comments management
Link between Correspondence Register and correspondence headers
Better management of incoming Transmission
Off-Line mode
Communication with Lotus Notes and POP3/SMTP servers
Intelligent (clickable) reports
Export to Word, Excel andf PDF
2009
Planned

Version 6

Full integration with MS-Office ®
Full integration with MS-Outlook ® tasks
Full integration with AutoCAD ®
Barcodes support (Retrieve information from a hardcopy by scanning the barcode integrated by A2DMS)
2010
Planned

Version 7  Integrated Business

A2DMS Mobile (Access A2DMS from a mobile phone)
Material Management
Collaborative work
(Allow multiple users to edit a document at the same time) 
Intelligent P&ID/PFD